What Is Exercise Physiology?
You may be wondering – exactly what is Exercise Physiology? Answer: Exercise physiologists develop and carry out exercise programs for rehabilitation, management and prevention of injuries and associated chronic diseases. Patients can include sufferers of osteoporosis, arthritis, cardiovascular disease, diabetes, depression, obesity and immunological disorders.
We proudly celebrate Sydney's multi-cultural society and have Vietnamese, Mandarin, Cantonese and Korean Exercise Physiologists available.
Flexible Hours, Home Care Services
At CAHC we're all about making life easier for you, and so we are open from Monday to Saturday, six days a week. Exercise and Sports Physiology clinic locations, we're also more than happy to visit you at home, if this suits you better. Plus our exercise physiologists regularly visit factories and work sites for work related injury cases. They also work closely with Medical Practitioners and other allied Health Providers, such as Physiotherapists and Psychologists.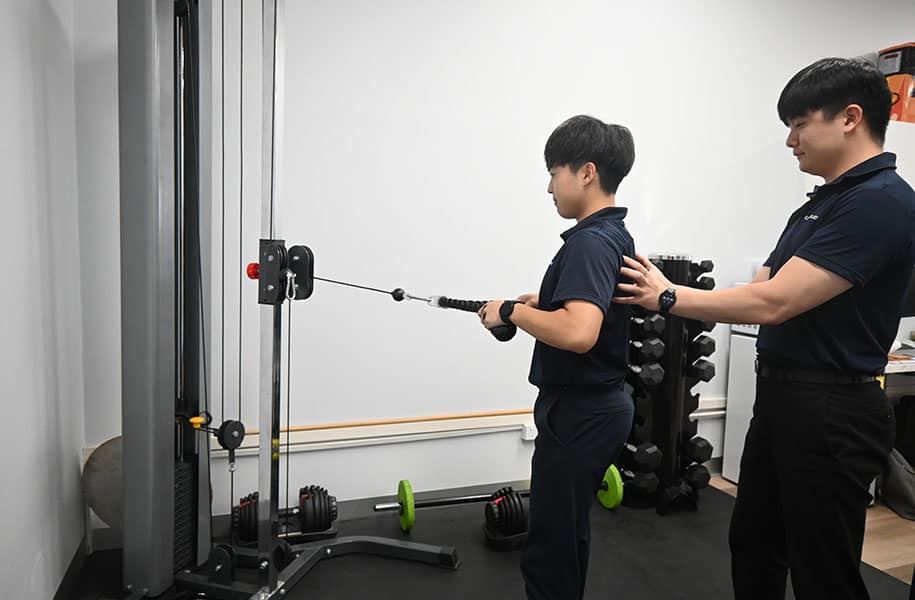 Comprehensive Exercise And Sports Physiology Services
At Complete Allied Health Care all our Accredited Exercise and Sports Physiologists (EPs) hold a four-year university degree. Highly experienced, they'll:
Promote your optimal physical wellbeing. Your Exercise Physiologist will always work within your pain threshold. He or she will never push harder beyond what you're comfortable with, constantly checking with you to make sure you're OK. With CAHC practitioners, you're always in control of the intensity of your exercise physiology treatment.
Our friendly Exercise and Sports Physiology team can also provide you with hydrotherapy services. These are highly effective aquatic based exercise services that reduce your pain and other symptoms, while strengthening your muscles and improving your mobility. In other words, they facilitate your best possible return to normal life.
And if you're after a work related activity or functional conditioning programs, CAHC are your go-to professionals.
If you have a chronic condition lasting more than six months requiring exercise physiology, you may be eligible for bulk billing with CAHC, for up to five combined sessions per calendar year under the government's Chronic Disease Management GP services. You'll need a GP referral.
Motor Vehicle Accident And Work Injury Claims
Are You Are Medical Practitioner?
And if you're a medical practitioner or other health care provider, CAHC makes patient referrals easy. Simply complete our referral form and we'll be in touch as quickly as possible.